Kilimanjaro Summit Photo Album

<![if !vml]>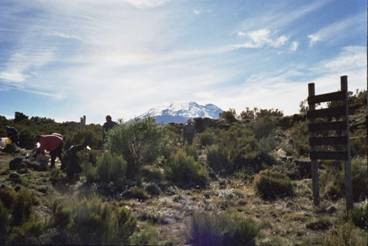 <![endif]>
Barrier Camp

The climb begins at Londorossi village (altitude 7500 ft) through tropical forest, and takes us to our first night's lodgings at Barrier Camp, from which we get our first on-trek view of Kibo. The typical campsite is on a level area, near a water source, with several outhouses and generally a wooden hut (used by porters) nearby.
<![if !vml]>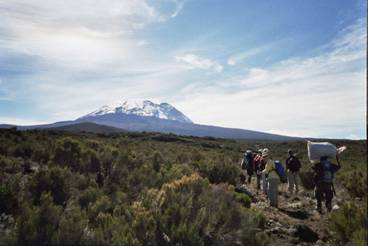 <![endif]>
Shira Plateau

Day 2 takes us across the Shira Plateau and up to Shira Hut Campsite, where we afford ourselves our first day of acclimatization. Trekkers carry only what is needed for the day (water, raingear, additional layers etc.), and the rest of the equipment is carried by porters (2-3 per trekker).
<![if !vml]>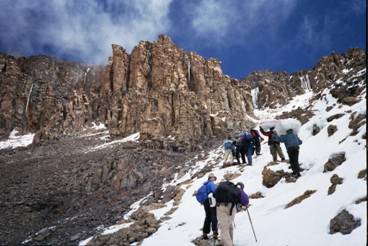 <![endif]>
Up The Western Breach

Pre-summit day takes us up the outer face of Kibo Crater's rim – across the lower ice fields, and then up and over one lava wall after another ...
<![if !vml]>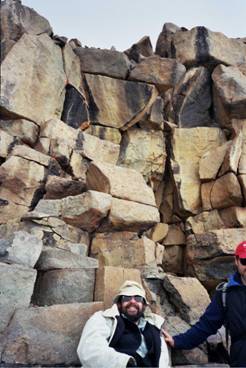 <![endif]>
Scrambling

… which entails skirting around, and scrambling up, boulders such as these.
<![if !vml]>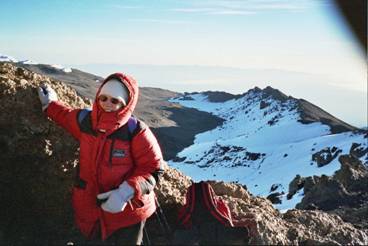 <![endif]>
Kibo Crater

Atop awaits Kibo Crater, within which we camp and spend our pre-summit night. An early start the following morning, and an 80-minute climb back to the crater rim and along it, get us precisely at sunrise to …
<![if !vml]>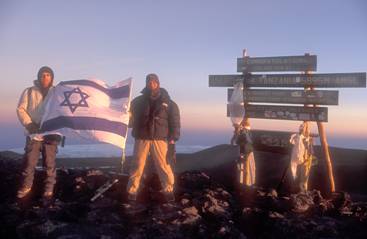 <![endif]>
Atop the roof of Africa

Uhuru Peak. 5,895 meters / 19,345 feet. (Notice the arching horizon.) After 20 minutes of smiles, photos and congratulations from and to other trekking teams, it's down, down, down 12,000 feet over the following day and a half to Mweka Gate, our summit certificates, showers and the flight home.